A Pop-up Portal Event with Back to the Body
So many of us feel "Messy". Like we just have too much going on to feel sexy or that we need to "clean up our act" before we can find our pleasure let alone our very real hotness. Well, it's time to get over that.
Our messiness is not going away. Life is full on real live hard transitions like relationship changes, health changes, financial changes. Our homes may be in need of a Spring Cleaning.
Here is an invitation to just stop it all and join us for a full day "Pop Up" event in Denver at a private residence where we will take on extricating the hotness from the messiness and having you leaving our gathering turned on and ready to take on the world.

There will be Ted Style Talks On:
Obstacles to Hotness

How to Receive Pleasure Even When We are Feeling Like We Need to Clean Out our Closets or go to a Yoga class or mediate

There will be a "Spring Cleaning Ritual"

Sneak peek at the science behind Back to the Body and Somatic Programs

There will be several embodied experiences to help us turn on and feel great
There will be a live demo with Pamela and Dan teaching the Art of Receiving through the mess

.
Join Pamela Madsen (Founder of Back to the Body), Dan Powers (Director at Back to the Body), and our special guests: Sway and Jenna Noah
Why Is It Important to Find Our Hotness?
If you are waiting for life to line up perfectly…best of luck to you. You will never have the perfect set of circumstances to live an embodied life. It is just not going to happen. Learn how to find it, cultivate it and grow.
It=Your Hotness
Are you denying yourself pleasure because…?
The entryway to your own pleasure is blocked or even locked. You may perceive receiving as selfish and filled with all kinds of obstacles:
"I don't have time"
"I don't have the money"
"Others will leave me"
Obstacles to Hotness can be the fear of opening and being vulnerable, being seen, self-doubt, feelings of unworthiness, and putting your trust in the hands of another.
Our process includes
Demos with Pamela and Dan

Ted style talks with Back to the Body and special guests

A small group of 20 women

A Panel discussion with graduate women and staff from Back to the Body

A chance to ask staff questions
Not many women have the opportunity to not only understand their own orgasmic potential, but it's a true luxury to be able to fully experience their pleasure potential.
Become one of them. To understand the art of receiving is to become sexually sophisticated. Learning how to become an active receiver is to become a woman who possesses the heart an explorer. Join us and receive an incredibly curated event for women to truly understand and feel the gift of receiving.
What if your mess was really your message?
We will come together on Sunday morning, beginning promptly at 10am. Please plan to arrive at 9:30am.
Lunch is on your own. You may bring one or eat out at a nearby location we suggest for you.
May 5, 2019
Denver, Colorado

$125.00
Flash Sale on now for $25 off the price, $100 total for the day
Lodging is not included
This Portal is Limited to 20 Women.
It will sell out, so get your tickets now!
Portal tickets are non-refundable. You may transfer your registration to another individual by contacting Meg Hunter at meg@backtothebody.org
If you have any questions about the event content or whether this event is right for you, please email meg@backtothebody.org
Meet The Portal Event Team
Founder & President of Back to the Body: Sensuous Retreats for Women
A pioneer in fertility and sex advocacy, Pamela Madsen is the Founder and first Executive Director of The American Fertility Association. She is a fearless advocate for women's health and integrated sexuality who leverages her raw honesty and well-informed wit to help strip the stigma from infertility, female desire and body image.
Pamela, a certified Somatic Sex Educator with a Master's degree in Education has coached hundreds of women on their own personal journey back into their bodies, and their own expression of their Divine Feminine. Pamela is a veteran speaker, educator, and renowned blogger for The Huffington Post, Psychology Today, The Fertility Advocate, and Care2.
She is the author of Shameless: How I Ditched The Diet, Got Naked, Found True Pleasure and Still Got Home In Time To Cook Dinner (Rodale, January 2011). Pamela has appeared on 60 Minutes, Oprah, CNN, AARP Primetime Radio, The Dr. Laura Berman Show, The Jane Pratt Show, and Playboy Radio. As well as countless other media outlets. To learn more about Pamela Madsen please visit her personal website.
Director and Practitioner Back to the Body
At the age of 40, Dan Powers was introduced to the Western version of the tantric arts through Charles Muir and the Source School of Tantra Yoga. That introduction began his quest for knowledge about all things related to a more intimate expression of sex and sexuality. Being an engineer, Dan sought to learn other grounded approaches to sexuality and gain an understanding of the inner working from the perspective of how bodies function. After years of study, the result of his quest is a comprehensive knowledge about sex, sexuality and relating from a wide variety of disciplines and traditions including Quodoushka, Sky Dancing Tantra, Human Awareness Institute (HAI), Lafayette Morehouse, Body Electric, One Taste, and many more. He shares his knowledge with his clients and the wider community through his company Beyond the Bedroom asking them to explore what is possible so they can decide what works best for them and their relationships.
At Back to the Body, Dan brings all his teaching to the table through coaching and bodywork. Working within the guidelines of Sexological Bodywork, Dan is driven by the deep knowledge that each woman needs to be treated uniquely to create the most appropriate experience for her journey. Dan is a man who possesses advanced experiences of tantric transformation and is therefore able to increase the blissful wisdom of a highly qualified practitioner.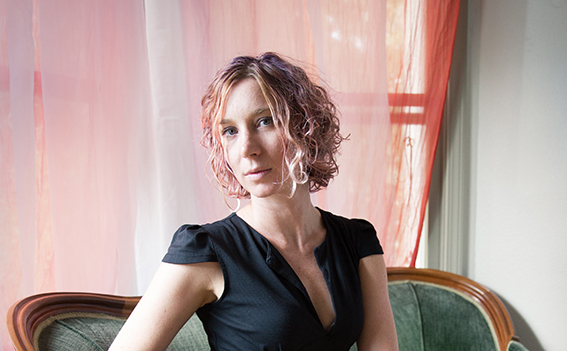 When sitting with Sway you will experience a self-empowering transformational process that allows one to explore all of your sensuality. Through this collaborative process, Sway listens to how you want to be photographed, gives posing guidance along the way, asking questions that ignite your creative spirit, then opening the door for your self-love to shine. Through this process the healing journey of sexual empowerment takes hold in a safe consensual space exploring desire, identity, sexuality, playfulness, and the erotic within.
Sway specializes in fashion erotica, sexuality, and sexual empowerment. She is a master of her craft and has been working in the industry for over decade empowering her models to be in their full power, beauty, and radiance. Sway creates an atmosphere of mutual collaboration, connection, and inspiration. Her skill goes beyond framing the perfect shot and playing with light, her gift is in capturing peoples essential beauty. She states, "My favorite moment as a photographer is a little hard to describe. The moment just hits me. You see a person begin to shed their masks and their true essence shines through. I am privileged to be able to capture that."
Psychotherapist, MA, LPCc, PhD (Cand.)

Jenna Noah works as an instructor at Naropa University and is a psychotherapist in private practice specializing in couples and individuals working with sexual disparities, pre-marital issues, sexual trauma, gender transition and more. Jenna is a member of AGPA (American Group Psychological Association) and leads process groups around topics of sexuality. Jenna integrates mindful body based awareness, somatic psychotherapy (based on principles of Hakomi), and existential psychology into her practice.